Gallo Vitucci Klar LLP Proudly Promotes New Partners: C. Briggs Johnson, Jacqueline S. Kim, and Rozaly Cohen
August 4, 2023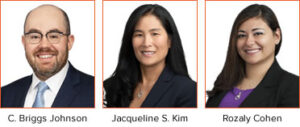 Gallo Vitucci Klar LLP is thrilled to announce the elevation of three remarkable attorneys C. Briggs Johnson, Jacqueline S. Kim, and Rozaly Cohen to the position of partner. Their exceptional contributions and commitment to the firm's growth and success have made this promotion a fitting recognition of their achievements.
C. Briggs Johnson has been with the firm since March 2021. Briggs is currently the Chair of the firm's Appellate Practice Group. Brigg's responsibilities encompass navigating complex and dispositive motions, trial motions, and perfecting appeals across the intricate trial and appellate courts of New York and New Jersey, as well as federal courts. His expertise includes legal research, drafting dispositive motions and appellate briefs, especially in cases involving high exposure and complex legal terrain.
Jacqueline S. Kim has been with the firm since June 2019. Jacqueline Kim is a legal professional with over 25 years of experience in general liability, including both plaintiff and insurance defense litigation. Jacqueline's practice encompasses a diverse range of cases, including the handling of complex premises liability, automobile liability, labor law, and construction accident claims. Prior to joining the firm, Jacqueline served as in-house trial counsel at two major insurance carriers.
Rozaly Cohen has been with the firm since March 2012. She defends clients across the realms of general liability, premises liability, construction, insurance coverage, and automobile liability in both New Jersey and New York. Her approach consistently secures favorable outcomes for clients facing complex legal challenges.
Gallo Vitucci Klar LLP's commitment to excellence is reflected in the elevation of C. Briggs Johnson, Jacqueline S. Kim, and Rozaly Cohen to partnership positions! As Gallo Vitucci Klar LLP continues to navigate the evolving legal landscape, the inclusion of these accomplished attorneys as partners reinforces the firm's capabilities to best serve our clients.